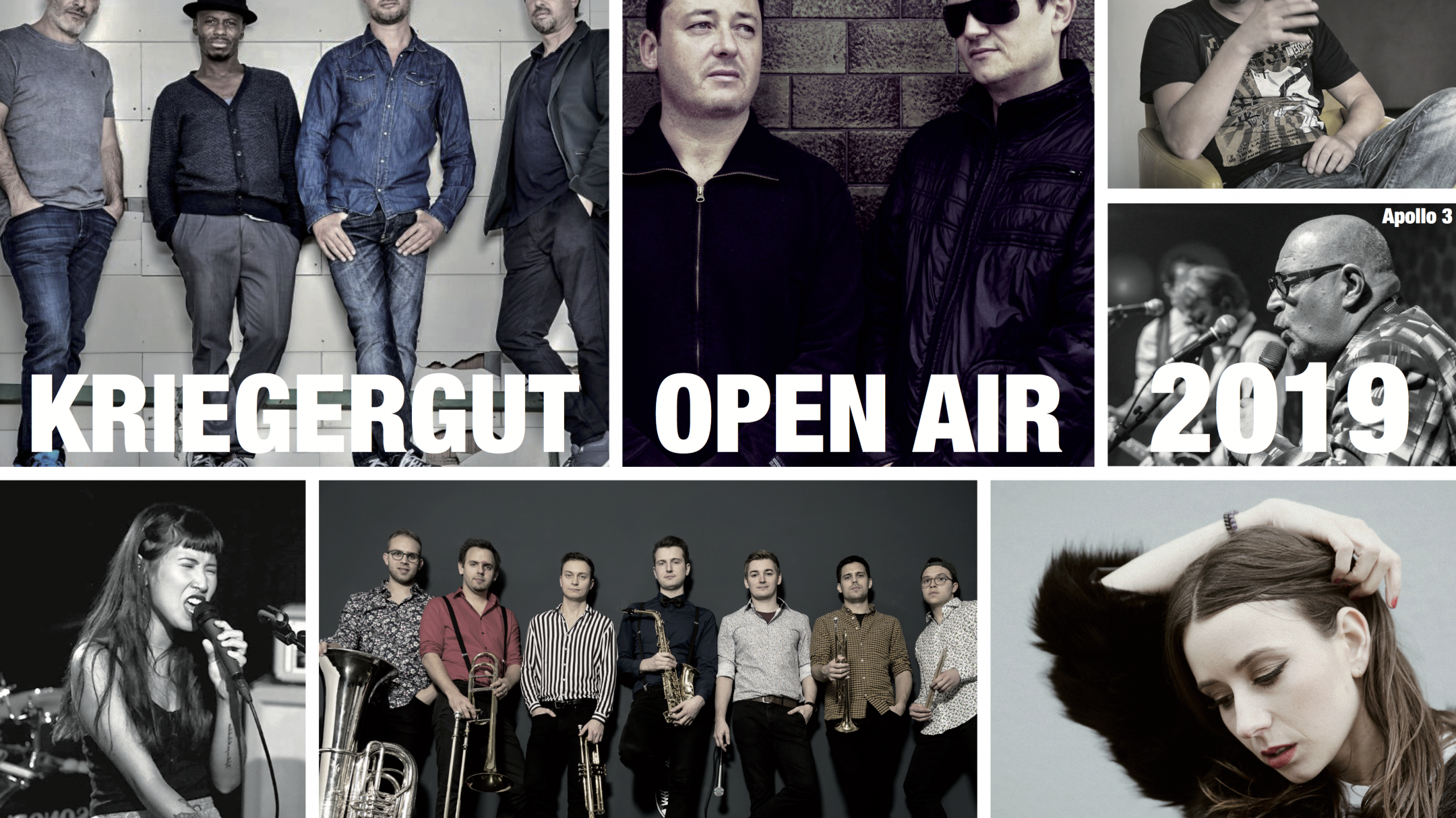 Bereits zum zweiten Mal veranstaltet das Kriegergut ein OpenAir-Konzert in sommerlichem Ambiente.
For the second time already, Kriegergut is hosting an OpenAir-Concert in summery ambience. Internationally renowned Attwenger and Sofa Surfers will perform. Attwenger shines with their minimalistic mix of traditional and Afro-American influences, integrating singsong in the Upper Austrian dialect, while Sofa Surfers never stop to surprise due to their versatile musical style. They will be supported by local lifeblood-subcultural Goschnrocker Manuel Normal and the Arbing-based brass pop band Herta bläst. Vienna-based Pippa, and socially engaged Hong Kong native, Sakura, will diversify things with their pop and indie folk performances. Apollo3 will play a satirical and nostalgic song list for the morning pint ("Frühschoppen").
Programm
5 p.m. Sakura
6 p.m. Herta bläst
7 p.m. Pippa
8 p.m. Manuel Normal (solo)
9 p.m. Attwenger
10:30 p.m. Sofa Surfers
APOLLO3, a brilliant formation centered around Rudy Pfann, will perform at DAY AFTER (June 30th from 10:30 a.m.). With their program "Geboren im Sumpf" (Born in a Swamp), they will play a satirical and nostalgic song list for the morning pint ("Frühschoppen").
Hip hop-trip hop-brass-pop-goschnrock-electronic-rock-alternative-funk-indie folk: Internationally renowned musicians ATTWENGER and SOFA SURFERS will perform, with MANUEL NORMAL giving a solo performance, and HERTA BLÄST performing as the regional support. The lineup will also feature PIPPA from Vienna and SAKURA from Hong Kong, diversifying the mix with their pop and indie folk performances.
The London-based, socially engaged singer with Japanese/Chinese roots, SAKURA, who opened up for Joe Traxler in September 2018, will present her delicate indie folk songs this year.
Local sensation from Arbing, HERTA BLÄST, will bring together traditional wind instruments and modern elements from a wide range of genres such as pop, rock, and funk, creating an individual brass pop sound.
PIPPA comes from the theater. Simultaneously light-footed and melancholic, she wowed us this spring with her first record "Superland." Pippa's songs look for poetry in sadness. Hollywood diva meets girl next door.
MANUEL NORMAL will soon release his farewell album "töchtersöhne." The lifeblood-subcultural-Goschnrocker will certainly give us a noteworthy and by no means ordinary good bye celebration.
ATTWENGER is one of the most original pop bands in Europe and is known for their minimalist mix of traditional material and Afro-American influences, interwoven with electronic sounds, integrating singsong in the Upper Austrian dialect.
SOFA SURFERS, whose versatile musical style is hard to categorize, have this to say about themselves: "If there weren't anything exciting left, we wouldn't make music anymore." We can, therefore, look forward to an exciting and versatile line up.
Organisation
Kriegergut is an established nursery, independently breeding their own plants. Since 2018, the nursery has also started to identifying as an open space for cultural encounters and exchange. With its cafe and its inviting setting, Kriegergut has become a popular venue for concerts and other cultural events.
Infos and reservation at http://www.kriegergut.at/veranstaltung.php?id=99
Postkarte: Kriegergut