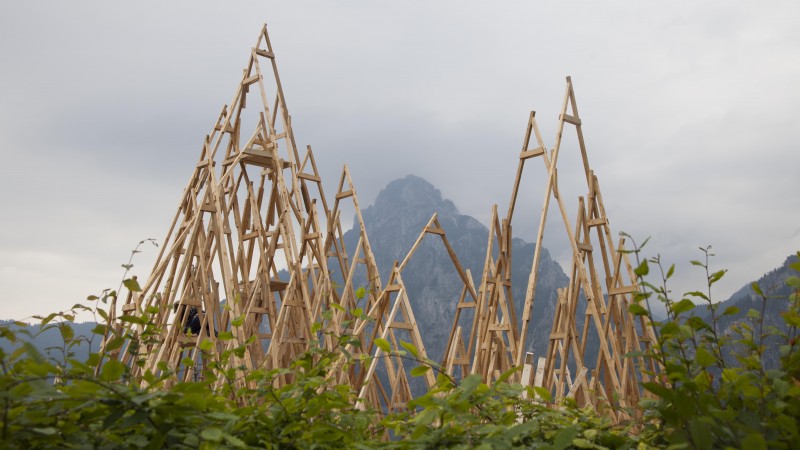 The FESTIVAL OF REGIONS
explores a region or town in Upper Austria every two years. Beyon urban- and arts centres, a program with contemporary art and culture as an attractive option for the residents and a broad, curious public is shaped and communicated. Apart from regional, supraregional and international participation by art­makers, collaboration is sought with local associations, institutions and good individual forces to anchor the festival on location and to leave behind traces that are as distinct as possible.
Apart from reinforcing and furthering regional initiatives in the field of cultural work, sensitizing people to current artistic trends is one of the festival's aims, with the aspects of communication, open dialogue and com­ bining everyday culture with art.
Past Festivals (since 1993):
The Festival of Regions 2017 "Uninvited Guests"
The Festival of Regions 2015 "Schichtwechsel – Hackeln in Ebensee / Shift Change – Slogging away in Ebensee"
The Festival of Regions 2013 "Umgraben / Digging Up"
The Festival of Regions 2011 "Umsteigen / Change Over"
The Festival of Regions 2009 "Normalzustand / Normality
The Festival of Regions 2007 "Fluchtwege und Sackgassen / Exits and Dead Ends"
The Festival of Regions 2005 "Geordnete Verhältnisse / Ordered States"
The Festival of Regions 2003 "Die Kunst der Feindschaft" (on the art of enmity)
The Festival of Regions 2001 "Das Ende der Gemütlichkeit" (the end of congeniality)
The Festival of Regions 1999 "Randzonen" (marginal zones)
The Festival of Regions 1997 "Kunst.Über.Leben – Entdeckungsreisen zu Alltagswundern" (a journey to everyday wonders)
The Festival of Regions 1995 "Heisse Heimat" (hot home / native country / hometown)
The Festival of Regions 1993 "Das Fremde" (the other / the stranger / the unfamiliar)