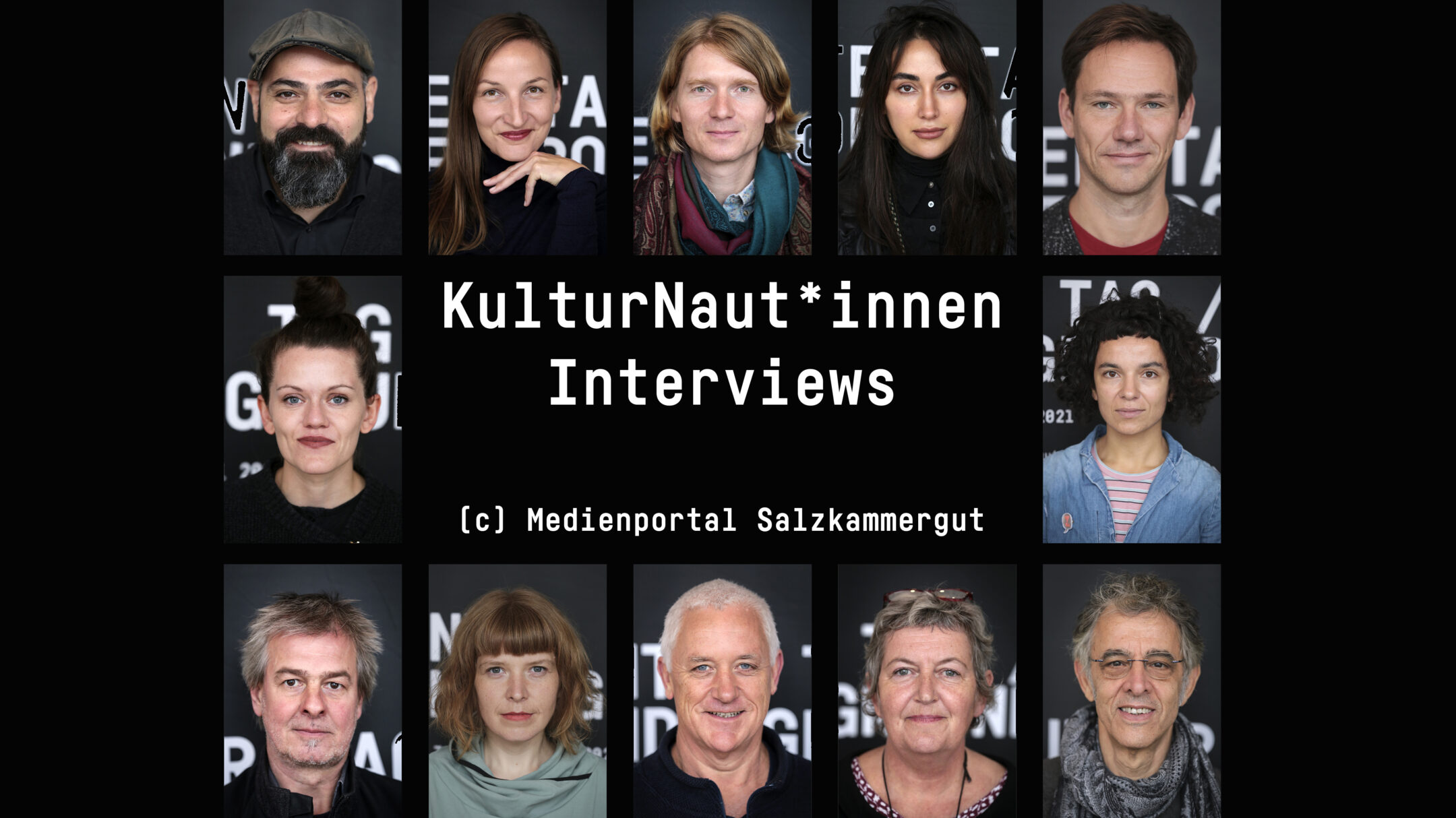 For the first time, the Festival of Regions invites artists to three residencies, during which they will develop and implement projects together with the local population.
The participating artists are named CulturNauts due to the research nature of the work process.
From October 9th to 18th, they explored the region and met various potential project partners, cultural and social workers and artists. They visited various initiatives and possible performance and presentation locations. At the same time, they went on a search for traces of historical and current conditions and circumstances in the region.
With the approach of dealing with social issues and everyday life worlds with contemporary art, the festival aims at the dialogue between the local population and local, regional and international artists. Participation is a top priority. Get to know them CulturNauts & learn more – Videos by Medienportal Salzkammergut
Anton Burger (Bad Aussee, Ö) | Musiker & Geiger
Teresa Distelberger (Wien, Ö) | Filmemacherin & Artistic Researcher
Franziska Fleischanderl (Salzburg, Ö)| Musikerin
Duncan Graham (Sydney, Australien) | Theater- & Drehbuchautor
Markus Jeschaunig (Graz, Ö) |  Bildender Künstler & Architekt
Jane Kennedy & Roger Titley (Wilderness, Südafrika)
Multimedia Storyteller & Filmemacherin | Gestalter, Designer & Animationskünstler
Romy Kolb (Wien, Ö) | Dance Artist
Betül Seyma Küpeli (Wien, Ö) | Bildende Künstlerin, Architektin & Singer/Songwriter
Efva Lilja (Stockholm, Schweden) | Choreografin, Bildende Künstlerin & Artistic Researcher
David Maayan (Wien, Ö) | Theatermacher
Fariba Mosleh (Wien, Ö) | Kuratorin
Florian Nitsch (Wien, Ö) | Bildender Künstler
Bashir Qonqar (Bad Goisern, Ö) | Bildender Künstler & Filmemacher
Magdalena Stammler (Lenzing, Ö) | Autorin
Luisa Ungar Ronderos (Bogotá, Kolumbien) | Bildende Künstlerin
Katarzyna Winiecka (Wien, Ö) | Bildende Künstlerin & Aktivistin
Wong Hoy Cheong (Penang, Malaysia) | Bildender Künstler
Airan Berg Künstlerischer Leiter | Andrea Hummer Kaufmännische Leitung
Audiovisuelle Beiträge (c) Medienportal Salzkammergut | Fotonachweis (c) Manuela Seethaler